Contact us for Classical Piano Lessons with Sergei Pavlov in Ajax and Whitby!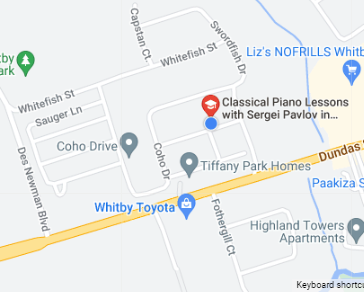 Contact Sergei Pavlov today for first-rate classical piano instruction, for students of all levels.
Sergei Pavlov has been teaching in Ajax and Whitby since 2013, upon relocating to the Durham Region from Toronto, where he had founded his first piano school, Debut Piano Studio, in 2004. Debut Piano Studio has become a successful piano school in the GTA, leading numerous generations of piano students to top prizes and awards in competitions, and high marks in RCM Examination.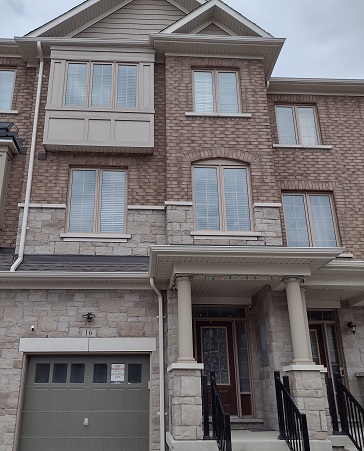 In Durham region, Sergei first taught piano lessons for students located mostly in Ajax and Whitby, at his Ajax-based home studio on Boylett Road.
Since March 2021, Sergei Pavlov has been teaching piano in his new home-based piano studio, at his current home address on Hallmark Way, in Whitby, ON, L1P 0K2.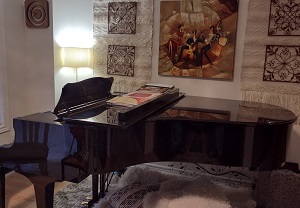 The piano studio is in a new home, in a new complex built in the last two years. Please download the latest maps on your GPS device, to ensure our brand-new postal code of L1P 0K2 is on the updated map. The general location is the N-E corner of Dundas x Highway 412, accessible via Des Newmann Boulevard if you come on Dundas from the West, and via Swordfish Drive if you come on Dundas from the East.
The piano studio is equipped with a professional Yamaha C5 Series grand piano, concert-level, with a beautiful sound. It is lovingly maintained and tuned, to ensure the best teaching experience and environment for both student and piano teacher.
Our Yamaha grand is a great instrument that has inspired generations of students of Sergei Pavlov. For all inquiries, please call 647-222-8761 or send email to