High Quality Classical Piano Lessons with Sergei Pavlov: Rates

If you live in Durham Region, high quality, leading classical piano lessons are available from Sergei Pavlov. Sergei is a highly qualified and very successful piano teacher, with a decades-long proven record in the GTA. The teacher's excellent qualifications and successful practice make him suitable for motivated / gifted students of all levels, searching for excellence in piano instruction.
Sergei Pavlov's private piano lessons follow the RCM (Royal Conservatory of Music) Syllabus, in preparation for piano recitals, piano competitions and RCM examinations - from Grade 1, to ARCT and Licentiate Diploma.
The piano lessons with Sergei are focused and dynamic, while fun and inspiring, and always delivered in a friendly atmosphere.
His studio-based piano lessons in Whitby are delivered on a professional Yamaha grand piano, C5 Concert-Series.
Classical Piano Lessons with Sergei Pavlov: Rates
Sergei Pavlov has a Master's degree in piano performance and pedagogy, has been a performing concert pianist on two continents, and is an international piano competition winner.
Below are his rates for in-studio piano lessons in Durham Region:
$40.00 for 30 minutes
$55.00 for 45 minutes
$65.00 for 60 minutes
Classical Piano Lessons with Sergei Pavlov: Studio Policies
Payments for piano lessons are made at the beginning of each month.
In the event of a piano lesson cancellation, advanced notification is required.
One cancellation free of charge is allowed per semester.
A missed lesson can be rescheduled according to the piano teacher's availability.
Potential students will be interviewed by the piano teacher free of charge.
Students are expected to participate in the semi-annual recitals of the Piano Studio.
At the year-end recital, students receive medals and trophies for their work.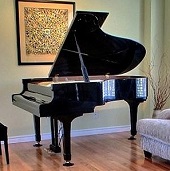 The Studio's piano recitals are fun and motivational events, where students get inspired and excited about their music achievements.
The free interview provided by your Whitby piano teacher helps to assess mutual compatibilities and expectations. A trial piano lesson could perhaps be arranged. To develop the right skills and keep being motivated, the piano student would ideally practice at home on an acoustic piano. The piano teacher would advise about intelligent ways of focused practising.
The piano teacher will suggest the length of the piano lesson based on the student's level or abilities:
from 30 - 45 minutes for beginners
to 60 minutes for the intermediate and advanced.