Classical piano lessons with Sergei Pavlov in Ajax, Pickering and Whitby :: Rates
---
---
About piano teacher Sergei Pavlov
Sergei Pavlov, Russian-Canadian pianist and piano pedagogue educated at the renowned Tchaikovsky Conservatory in Moscow, has a proven record as one of the best piano teachers in the Greater Toronto Area, through his well established and successful piano school Debut Piano Studio. Sergei has rich credentials as a piano teacher and is currently having under his tutelage more than forty five successful students. For videos of piano performances of both teacher and students please check out

Sergei Pavlov's Youtube channel and scroll down this page to sample some of Sergei's performances.
Sergei Pavlov would be a great role model for students who wish to pursue a piano education and excel at it, because he offers them an example of personal achievements through his exemplary record as a piano teacher and a virtuoso concert pianist who won the Frist Prize in the 1995 Bartók-Kabalevsky-Prokofiev International Piano Competition. Sergei Pavlov's students achieve deserved recognition for their determination and hard work at the Royal Conservatory of Music's examinations as well as at piano competitions and music festivals across the Greater Toronto Area and at national level - such as the prestigious Canadian Music Competition, where an elite of music students from all over Canada compete each year.
Sergei Pavlov now extends his classical piano lessons to the East of the GTA, to students from Ajax, Whitby, Pickering. Piano students in these areas who are searching for excellence in piano instruction and are motivated and committed to delivering their best are welcome to inquire!
Sergei Pavlov's piano studio is offering:
Private one-on-one piano lessons in reparation for RCM examinations, from Grade 1 to ARCT and Licentiate Diploma, offered to both children and adults
Preparation for recitals and piano competitions
Coaching and piano lessons via Internet (Skype)
In addition, Sergei Pavlov offers solo piano concerts at private functions or public events. Bookings need to be made in advance. Please contact us for details and see highlights of Sergei Pavlov's piano repertoire.
Research in neuroscience keeps outlining the important role a quality music education plays in the development and academic growth of a child. The kids who study an instrument in a high-quality, structured environment such as the one offered by Sergei Pavlov's approach in teaching, benefit from an increase in their cognitive functions and memory processes. Music education has been shown to even influence a child's IQ.
Sergei Pavlov is the piano teacher with possibly the best credentials and experience you can find in your area. He is not just the average piano teacher, but a highly qualified pedagogue at the renowned Tchaikovsky Conservatory in Moscow, an award-winning concert pianist, and an adjudicator at international level. It would be objectively hard to find a piano teacher who encompasses so many qualities and would be offering such a great inspiration to his students. Thus, the experience and high professional standards that Sergei Pavlov brings into the musical education process in his private piano classes are undoubtedly contributing factors to his students' intellectual and psychological blossoming.
Piano lessons rates:
$31.00 for 30 minutes
$42.00 for 45 minutes
$50.00 for 60 minutes
Please inquire for coaching / mentoring on the Internet over Skype - intended for advanced students only
As an inspiration, please enjoy piano performances of Sergei Pavlov below...
Piano teacher Sergei Pavlov will suggest the length of the piano lesson based on the student's level and abilities, from 30 - 45 minutes for beginners to 60 minutes for the intermediate and advanced. Students are expected to practice in order to accomplish the home work given by their piano teacher from one week to another.
Many students take piano lessons throughout the summer, but the yearly registration for piano lessons starts at the end of august. The time slots are reserved on a "first come, first served" basis. There is usually a waiting list in effect, due to the teacher's limited availability. Potential students will be interviewed by the piano teacher free of charge. The interview is relevant in terms of mutual compatibility and expectations between the piano teacher and the potential student. In addition, a trial piano lesson can be arranged for a fee.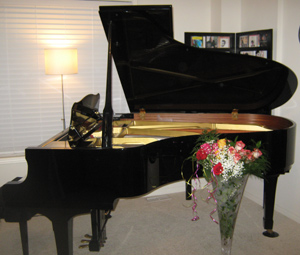 Payments for piano lessons are made at the beginning of each month. In the event of piano lesson cancellation, advanced notification is required. One cancellation free of charge is allowed per semester. A missed lesson can be rescheduled according to the piano teacher's availability.
Piano practice would ideally take place on an acoustic piano. The more time one spends on focused practice, the better. As students have various skills and degrees of absorbing new material, the time spent on practicing can be different in order to thoroughly succeed at their homework assigned by the piano teacher for the next class. Some can require hours of practicing daily, some much less. It will become rapidly clear to the students themselves how much they need to spend at the piano in order to satisfy the demands of the teacher for the next lesson. If they practice daily in a focused manner, they can develop a routing of absorbing more and more in a shorter amount of time.
All students are expected to participate in the studio's piano recitals, which take place twice a year. They are fun and motivational events where they get to know each other and get further inspiration and competitiveness.
Music scores and manuals can be purchased by the piano teacher, for convenience. Payment is due upon receipt. Occasionally, the piano teacher may be available to accompany a student in a competition or music festival piano performance.
The home piano studio is equipped with a professional C5 Series Yamaha grand piano and a digital keyboard. It possesses digital recording equipment, digital music editing software, professional CD and DVD making capabilities.
On July 25, 2015, our student Johann Derecho won the ORMTA Young Artist Competition. He also won the Esther Su Memorial Award for the most promising talent in the provincial finals of the ORMTA Auditions. The prizes are accompanied by a monetary award and a series of concert opportunities for Johann, who'll be performing across the province of Ontario. Johann also won the Founder's Award Class and Scholarship at the 2015 North York Music Festival, which entitled him to attend the Peter de Grote Festival and Summer Academy in Amsterdam, The Netherlands in July 2015.
Emily and Julia won first prizes at the North York Music Festival. At the ORMTA Spring Auditions of the Scarborough Branch Emily won the First Prize in the Intermediate level and Maria was promoted to participate in the GTA Zone Instrumental Competition. The Scholarship and Awards Auditions of the North York / York Region Branch of ORMTA concluded with scholarships and prizes for Emily, Julia, Justin, Chris and Johann. At the CCC Toronto Piano Competition, Chris won the second place in the ARCT level category with Partita by Bach. Congratulations to all of Sergei Pavlov's students who participated in music festivals and auditions in the first part of 2015!
v1.0 © 2015, all rights reserved.